Thank you for registering! We sent you a confirmation email; please click the validation link to confirm your subscription.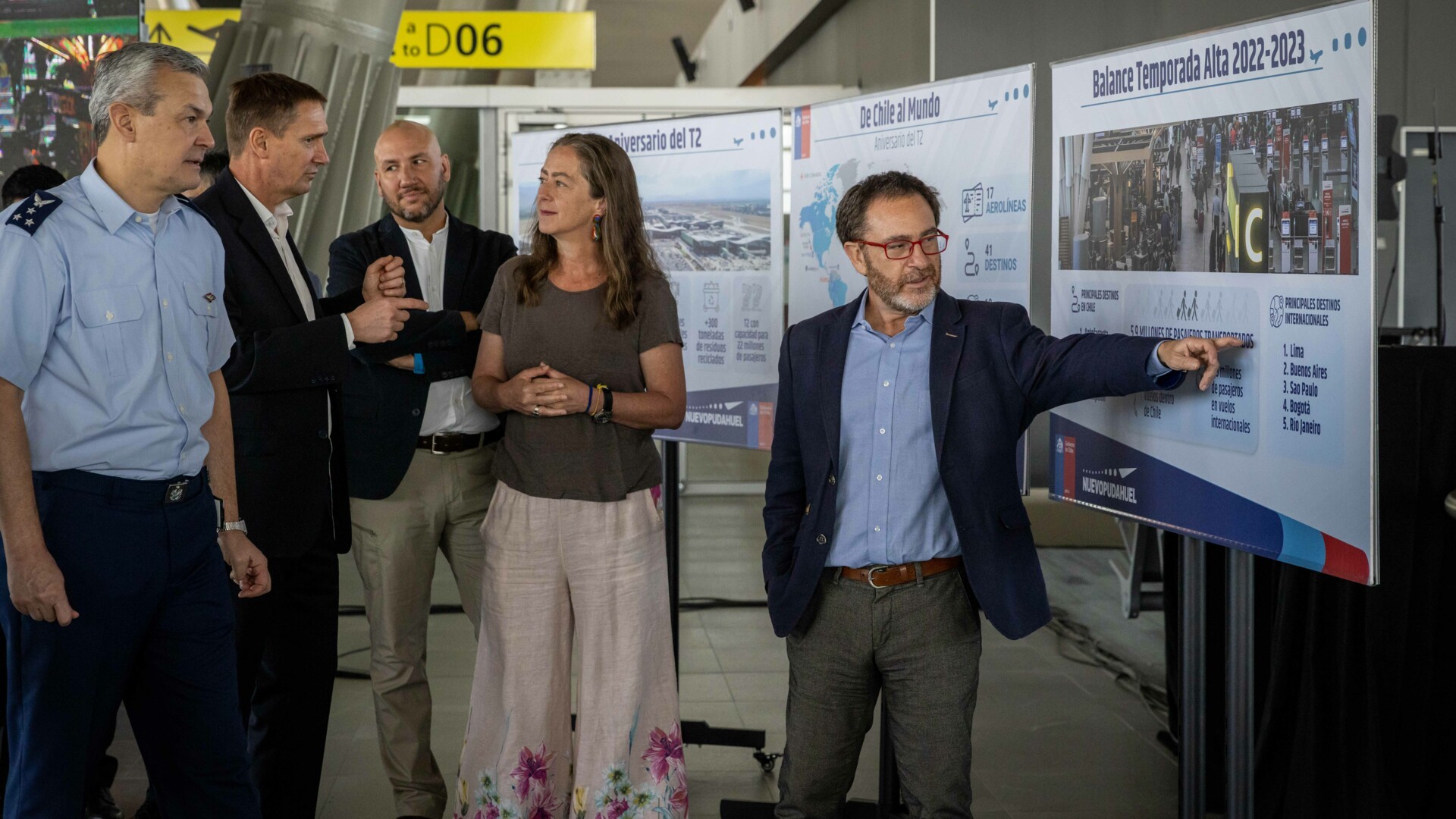 Santiago Airport's International Terminal (T2) celebrates its first year of operation with an improved experience for passengers in Chile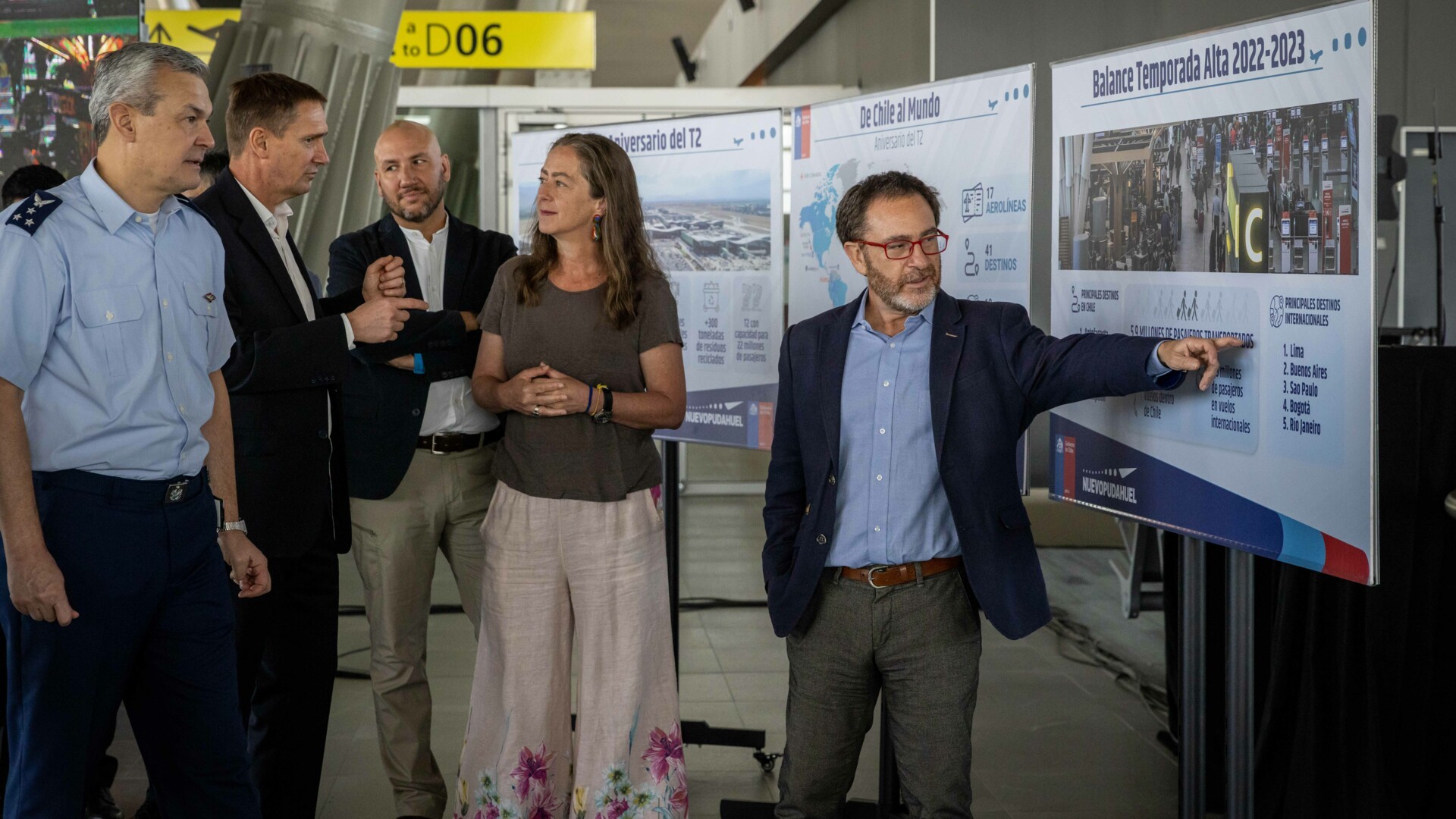 Since its opening in February 2022, 7.8 million passengers have traveled through the new facilities, which have tripled the surface area of ​​Chile's main air terminal and increased its capacity to receive up to 38 million passengers per year.
VINCI Airports and Nuevo Pudahuel - operator of Santiago Airport - celebrated the first year of operation of its International Terminal (T2), a 248,000 m2 building that tripled the surface area of Chile's main airport complex.
In its first anniversary, 7.8 million passengers have used the International Terminal (T2). The inauguration of the building at the end of February 2022, took place in a context in which sanitary restrictions due to covid-19 still applied. However, with the easing of measures announced in October last year in Chile, the year-old structure has witnessed the gradual reactivation of air and passenger traffic.
"In this first year of operation, Chile and the world have been able to witness how the face of the country's main airport has changed. The International Terminal (T2) was a tremendous challenge that took five years to build and today, passengers who transit through this new infrastructure have more space, commercial areas and restaurants. All this aims to improve the travel experience of travelers even before getting on the plane", said François-Regis Le Miere, CEO of Nuevo Pudahuel, a consortium formed by VINCI Airports, Groupe ADP and Astaldi Concessioni.
The expansion of Santiago Airport increased its capacity from 16 to 38 million passengers per year, considering that the boarding gates more than doubled, from 31 to 76. The construction was an investment of more than US$1 billion.
Currently, 17 airlines operate flights to 41 destinations. In this first year, two airlines -Qantas and Level- that had suspended their services to Santiago as a result of the pandemic returned and six destinations were recovered. Additionally, five new international routes were opened.
Santiago Airport's International Terminal (T2) has opted for automated technologies to improve passenger's documentation processes. There are 96 self-check-in kiosks throughout the building, as well as 64 self-bag-drop positions available.
2022-2023 High Season
The first anniversary of the International Terminal (T2) coincides with the end of the summer holidays for Chileans. Between December 2022 and February 2023, 5.9 million passengers traveled through Santiago Airport, which is in line with the projections made for this high season. The number is a sign of the gradual reactivation of travel, but it is still 16% less than what was recorded in high season 2019, prior to the pandemic.
"These six million passengers travelling through Santiago Airport this summer is very good news, and the anniversary of the International Terminal (T2) is also proof of how the joint work between the public and private sectors brings positive results.", said Juan Carlos García, Minister of Public Works.
The world's leading private airport operator, VINCI Airports operates more than 65 airports in 12 countries in Europe, Asia and the Americas. Thanks to its expertise as a global integrator, VINCI Airports develops, finances, builds and manages airports by providing its investment capacity and its know-how in optimizing operational performance, modernizing infrastructures and managing their operations and environmental transition. VINCI Airports is the first airport operator to have committed to a global international environmental strategy in 2016, to achieve the goal of net zero emission across its entire network by 2050.